TDG iPad Air 3 / iPad Pro 2 10.5 inch Leather Smart Cover Case with Auto Wake/Sleep Black
Rs. 1,299.00

Rs. 1,299.00

Save

Rs. 1,700.00
---
---
---
---
---
ESTIMATED DELIVERY TIME:
&nbsp &nbsp
2 TO 5 WORKING DAYS (WITHIN INDIA) & 12 TO 15 WORKING DAYS WORLDWIDE
---
TDG iPad Air 3 / iPad Pro 2 10.5 inch Leather Smart Cover Case with Auto Wake/Sleep Black

FEATURES OF IPAD 10.5 INCH COVER
THIS SMART CASE COVER IS COMPATIBLE WITH 2 APPLE IPAD MODELS

Apple iPad Air 3 10.5 inches &

Apple iPad Pro 2 10.5 inch
Lightweight Smart Case Trifold Stand with Auto Sleep/Wake Function, Microfiber Lining,
Hard Back TDG iPad Air 3 / iPad PRO 2 10.5 Leather Smart Cover Case with Auto Wake/Sleep Cover Black color

It offers all-around protection and is precisely designed to keep your iPad Pro 9.7 fully covered with a slim fit.

Just like the Smart Cover, the Smart Case wakes and sleeps iPad on open and close and folds into different positions to make reading, viewing, or typing even easier.

This Cover is Specially designed to give you 10.5 inch Apple iPad Pro 2 / iPad Air 3rd Gen smart covers give a Unique Look.

This Case does more than just Protect: it hides the facts that you are still rocking the Original One.

This Apple iPad Pro 2 / iPad Air 3 leather smart cover case makes sense because it's a relatively inexpensive way to make a statement.
Highlights
Suitable For: Tablet
Material: Artificial Leather
Theme: Plain
Type: Tablet Flip Cover
10.5 inch iPad Smart Cover Description
When it comes to looking for products that accentuate the look and feel of your iPad 10.5 Air 3 / iPad Pro 2, then nothing beats the design and functional excellence of this Leather Trifold smart cover. With the latest design, excellent color options, and stylish features, this iPad Air 3 cover is a must-buy accessory for the gadget lovers who go the extra mile to protect their gears. The design of this cover not only protects the device but also passes on various quality parameters.
Colors: 
Black, Gold, Navy Blue, Red
Material:

 
The product is made up of durable and high-end PU material on the front with soft microfiber lining on the inside of the front fold. The back cover is made up of PC material that is sturdy and translucent in color.
Compatibility:

 
This smart cover and stand case is only compatible with 10.5 inch iPad Air 3rd Gen and iPad Pro 2nd Gen and cannot be used with any other device.
Tri-Fold Design:

 

The classic style of this product allows automatic navigation between the sleep and wake up mode of your device. The two-way fold options incorporated in the product design allows the user to use this case when viewing a video or movie, or typing. The flip cover comes with a magnetic mechanism that just adds to the feel of the product.
Additional Features: Now get all the style without compromising anywhere on the features. This smart case also allows easy access to various ports, buttons, and cameras without any interference.
Brand
Product Type

Smart Cover for iPad Air 3rd Gen 10.5 inches
Smart Cover for iPad Pro 2 10.5 inches

Highlights

Auto Wake Sleep Function
Stand
Magnetic Closure
Microfiber inner lining
Premium PU Leather Case

Compatibility

Apple iPad Air 3 10.5 inch
Apple iPad Pro 2 10.5 inch

(is not compatible with any other iPads.)

SKU

Smart Cover Case iPad 10.5 BLACK

Color
TDG iPad Pro 2 / iPad Air 3 Smart Cover with Auto Wake/Sleep Cover, 10.5 inch
For added protection and ease of use, wrap your iPad Air 3 in the iPad Air 3 Smart Case with Auto Wake/Sleep Cover, 10.5 Inch. The slim case offers a lightweight design and exceptional everyday convenience. Choose from a variety of fashionable colors to match your personal sense of style.
Details
Fits iPad Air 3 10.5 inches/ iPad Pro 2 10.5 inches

Protects the device's screen from scratches and smudges

Full access to the device's buttons/ports

Auto sleep/wake functionality

Magnets keep cover closed

The cover folds horizontally to create a stand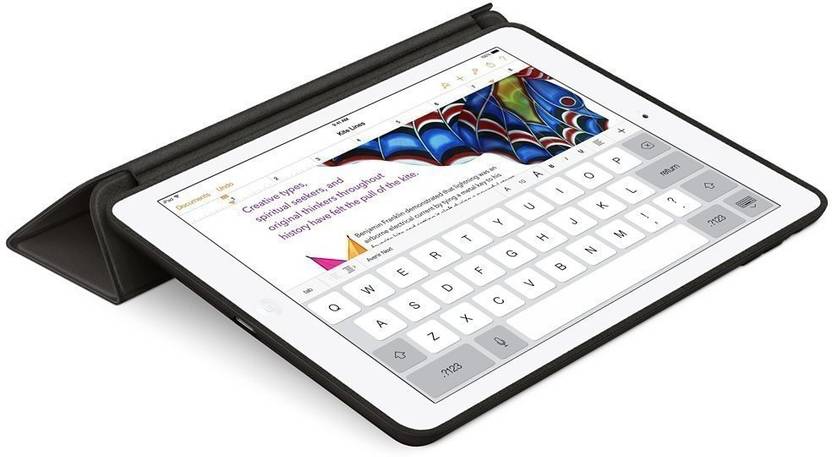 Full Access to iPad's buttons & ports
The TDG case fits the 2019 iPad Air 3 10.5 Inch / iPad Pro 2 2017. It not only provides a secure fit, but it also ensures full access to the device's buttons and ports-everything from the camera and headphone jack to the volume and power buttons. In addition, an elastic stylus holder is included on the side.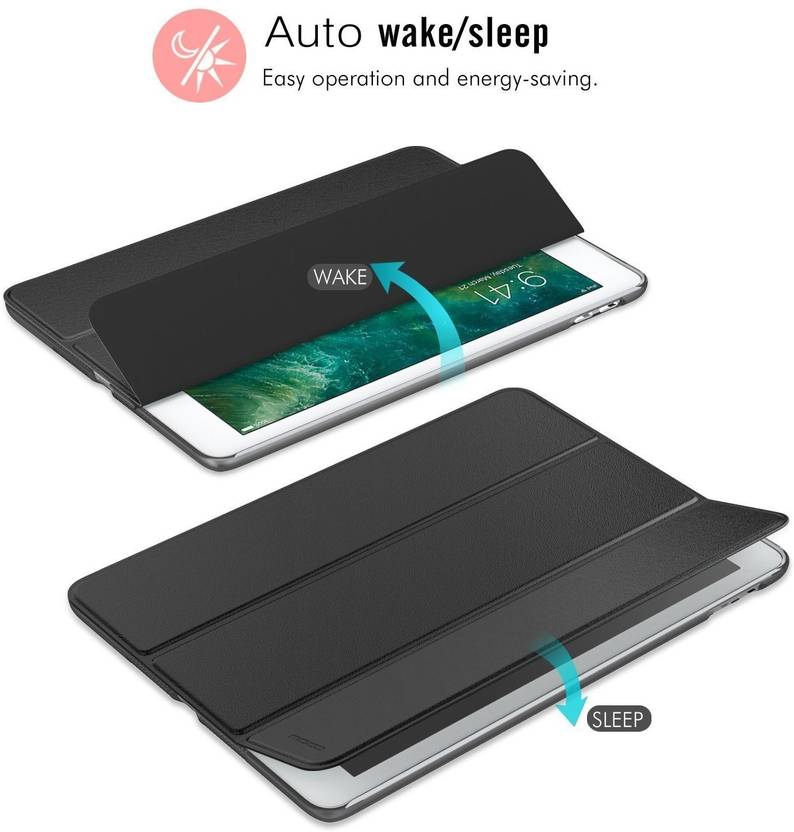 Auto Sleep/Wake Function for your iPad Pro 2
With a simple close of the cover, the case forces your iPad Air 3 2019 / iPad Pro 2 2017 to sleep automatically. Alternately, open the cover open to instantly wake-up your device. An intuitive and efficient-a flip of the cover is all it takes to move from one mode to the other.

Doubles as a Stand
The cover can be folded horizontally, making it easy to prop your device up for a comfortable viewing angle-a nice option when streaming video or following a recipe when cooking in the kitchen.
---
We Also Recommend